Tampa Spring Snook Fishing is on
Tampa spring Snook fishing has been off the hook off the mangrove shore lines around the Tampabay area. April is typically one of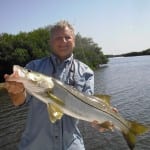 our very best months for flats fishing and so far it has lived up to my expectations. The Snook, Redfish and Trout fishing has been on fire.
Tampa Snook fishing has been the great over all with many small to giant over slot Snook. I have been pleasantly surprised with the amount of number of big trophy Snook we have been catching. The last few years have been ok but this year I have boated more trophy Snook then years past. We have been averaging around 12 Snook per day and we have been landing a few over slot size Snook per a trip.  The Snook fishing is excellent right now.
Redfish have also been doing very well. On most days I've been getting plenty of redfish mixed in with the mullet schools. Most of the Reds mixed in with the Mullet have been in the 18 to 27-inch class and a hand full over 30 inches. On the lower tide days, I have been getting the larger 30 plus inch Reds.
Trout fishing has also been really great with a lot of big Gator Trout, I haven't been catching in the same place as they have been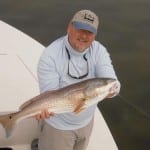 mixed in with the Snook and Redfish. Most have been ranging from 16 to 25 inches with some just under 30 inches. The Trout fishing is very doing very well this year.
If you have a livewell go catch bait and go to the area, you want to look at and throw a hand full or two out and see if you get any fish start to pop the bait. This is the time of the year when the Snook and Tarpon start their migration to the beaches and passes.
Capt Jim Lemke charters out of Tampa, St. Petersburg and Clearwater and can be reached at (813) 917-4989 and at captjimlemke@gmail.com