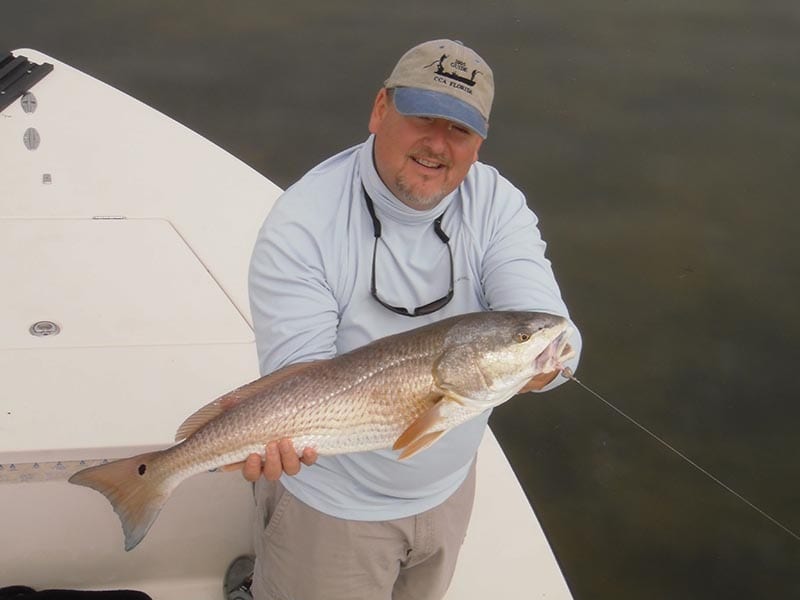 When you are looking for inshore fishing action in the Clearwater area, you need look no further. Clearwater Fishing Guide Capt. Jim is a native-born angler who has put his 20 years of knowledge and skills on the local waters to work, making him the choice for sport fishing anglers from all over the world, fishing television producers, sports stars, and celebrities seeking saltwater thrills. More about Capt. Jim
Clearwater Fishing Charter
Clearwater fishing guide services brought to you by Light Tackle Adventures is second to none. It offers tons of inshore and nearshore fishing opportunities as one of the furthest most connectors to the North of the Tampa fishery. The interesting geography of the area places fishing opportunities on the inside (part of Old Tampa Bay), on the outside flats situated in between Clearwater mainland and the several keys and mangrove islands of Clearwater, and on the outside skirting locations between the surf and the open waters of the Gulf of Mexico.
Your private charter is promised to be as productive as it is memorable. There is no greater way to enjoy a day on the water than scheduling a charter here with us. When visiting Florida, it offers your chance to see why Florida is the Fishing Capital of the World. Make no mistake, this fishery is on fire, and we invite all onboard our private charter vessels to take part in this world-renowned fishery.
Charter Booking
Capt. Jim Lemke has been featured in many worldwide television shows like ESPN2 Inshore Angler and Urban Angler along with many local shows like Hooked on Fishing with Capt. Bill Miller, The Average Angler and the 47 Fish Finder with many more.
Why not create your own Clearwater Fishing memories and reserve a charter today!  BOOK NOW
Clearwater Inshore Fishing Guide
Clearwater is part of one of the largest saltwater estuaries in the world and it is home to some of the most exciting inshore fishing on the planet. Redfish, trout, snook, tarpon, snook, sheepshead, cobia, several species of sharks and many other types of fish call Anna Maria Island their home. Our primary targets while fishing the flats of Clearwater are Redfish, Snook and Sea trout and they can be caught in a variety of ways. They can be targeted with live bait, artificial lures, by fly fishing. Learn More – Inshore Fishing Charters
Clearwater Tarpon Fishing Guide
This is by far the single most exciting thing you can do on the water! Warm weather, crystal clear water, and big game fish! Imagine cruising along the beach at sunrise looking for powerful fish that weigh up to 200lbs. Once we've spotted them, we move in quietly to present a bait, a 100lb fish eats it and leaps into the air! You hold onto the rod for dear life as the Silver King hits the water and attempts to rip 300 yards of line off the reel at a breakneck pace.
Tarpon invade Clearwater by the 10's of thousands during the months of May, June, and July. Clearwater is home to one of the largest Tarpon migrations in the world as they come here to gorge themselves in preparation for spawning. We take advantage of this opportunity every summer as we chase the mighty tarpon. Learn More – Tarpon Fishing Charters
Clearwater Fly Fishing Guide
If you like flinging flies, you've come to the right place! Capt. Jim has been running Clearwater fly fishing charters for 20+ years. Fly fishing has always been a passion for Jim, and he loves sharing his experiences and expertise with both avid and novice fly anglers alike.
Capt. Jim has a dedicated fly-fishing boat and it's a good one. It's a Maverick HPX and its specifically designed for poling anglers around on the shallowest flats possible. Fly anglers will find themselves right at home with the roomy front deck designed to give you an unmatched platform for presenting a fly. Learn More – Fly Fishing Charters