Tampa Area Fly Fishing Charters
If you like flinging flies, you've come to the right place! Capt. Jim has been running Tampa fly fishing charters for 20+ years. Fly fishing has always been a passion for Jim, and he loves sharing his experiences and expertise with both avid and novice fly anglers alike. Capt. Jim has a dedicated Tampa Fly Fishing Charters boat and it's a good one: It's a Maverick HPX and its specifically designed for poling anglers around on the shallowest flats possible. Fly anglers will find themselves right at home with the roomy front deck designed to give you an unmatched platform for presenting a fly.
What are the best times?
Fall, Winter, and early Spring are our best months for Tampa Fishing Charters fly fishing the flats for redfish, snook and trout as these times of year give us the clearest water for sight fishing and also the best times for hunting fish on Tampa Bay flats.
Can I fly fish for Tarpon?
Capt. Jim also specializes in Tampa Fishing Charters tarpon fishing on fly, if "big game" is what you're after. The best time of year for this is May, June and July.
Don't miss your Tampa Fishing Charters opportunity to fly fish with a real master of the sport here in Tampa Bay.
Tampa Fly Fishing Guide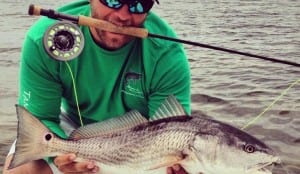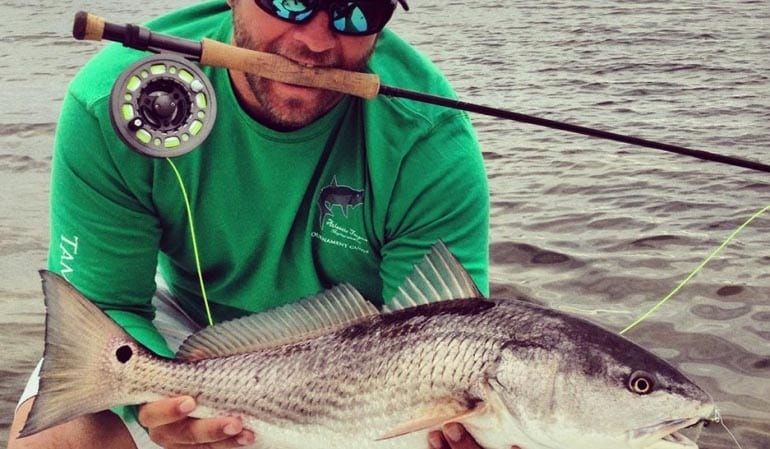 Ever dream about whipping a bug into the path of a tailing Redfish? Of course, we all have. And after 20 years of fine tuning this method of fly-fishing, fly-fishing guide Capt. Jim Lemke has combined professional sight fishing tactics with the delicate art of fly fishing. If you never been into the real skinnies of Tampa area waters, let Light Tackle Adventures Tampa Fishing Charters get you up close and personal with the many game species that will take a fly.
What should my skill level be?
Novice or pro, Capt. Jim can take your Tampa Fishing Charters fly fishing adventures to new levels in this SW Florida fishery. Add to this the yearly Tarpon run, and you have the ultimate in fly fishing waters available to you in Tampa and its surrounding areas. When it's time to truly hunt the flats, there is no better means than that of sight fishing the flats with a fly rod in hand. From the moment of sight to the moment of presentation, Light Tackle Adventures will have your day covered with this life changing method of fishing.
Can I bring my own Fly Rod and Reel?
Sure thing!
What are your Fly Fishing Charter Rates?
We offer many charter offerings on the fly, see Rates
To get started or to learn more Start Here