Tampa Bay Snook Charters
Clearwater, St. Pete, and Tampa bay and the rest of the west coast of Florida it will be Snook season March 1 2016. Over the last few years Tampa Bay snook have had a good come back from the freeze in 2010 with lots of 10 to 20 inch Snook being caught all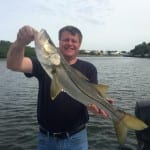 along the shore lines of Tampa Bay and the west coast of Florida from the Florida Keys all the way up to crystal River. With the main areas being Tampa bay and Boca Grande being the most heavily fished. It's not uncommon to catch 40 to 50 small Tampa Bay Snook on a 4-hour charter in the warmer months. The bigger Tampa Bay Snook what we call over slots or breeder Snook are from 33 inches and up that are only catch and release are still going strong also. It's the slot fish from Not less than 28" total length (TL) or more than 33″ TL that are future breeder fish are what we need to manage better.
The regulations for the Gulf Coast of Florida are the Snook must be between Not less than 28" total length (TL) or more than 33″ TL with a closed season from Dec. 1-end of February and May 1-Aug. 31 with a 1 per day harvest.
The Snook like the water temp to be in the range of 70 to 85 degrees to feed best. When the water drops below 58 degrees the Snook's metabolism slows down where they will die. On the other end of the spectrum when the water temps get in the upper 80's and lower 90's they get lazy.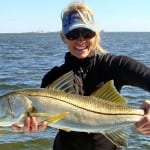 The Snook in Tampa Bay area there are many different ways to fish them the most popular way to catch them is live bait like pilchards, sardine's, pinfish, and the most popular is live Shrimp. The second way is throwing artificial like soft plastics or hard baits.
You find Snook in many different areas in the Tampa region depending on whether it is Spring, Summer, or Fall. In the spring when the Snook move out of there winter homes in the rivers, creeks, and back water canals where they are heading toward the front of those creeks and rivers where they start to stage up before heading to the passes and the bay area bridges their summer home where they get ready to spawn. Than when Fall rolls around they start working their way back to the creeks and rivers.
Capt Jim Lemke charters out of Tampa, St. Petersburg and Clearwater and can be reached at (813) 917-4989 and at captjimlemke@gmail.com