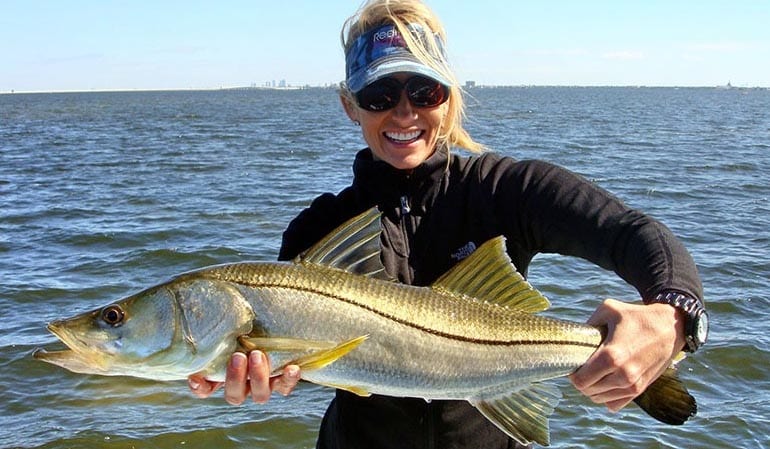 Snook fishing in Tampa Bay is as exciting as it gets. These aggressive ambush hunters can be found in a plethora of locations within the waters of Tampa Bay and its surrounding areas. Stalking the backcountry for these linesiders is a true act of hunting. Finding the right structure, working the tides, and presentation are all key factors to landing these fish. Once hooked up, you can expect hard drag peeling runs, leaps into the air, and head shaking aggression. There are very few other species that create this kind of excitement while light tackle fishing in Tampa Bay.
Charter Booking
Capt. Jim Lemke has been featured in many worldwide television shows like ESPN2 Inshore Angler and Urban Angler along with many local shows like Hooked on Fishing with Capt. Bill Miller, The Average Angler and the 47 Fish Finder with many more.
Why not create your own Tampa Bay Snook Fishing memories and reserve a Tampa fishing charter today!  BOOK NOW
Snook Fishing Information
The basics of Snook fishing are all in the location, approach, and presentation. Sometimes elusive, sometimes aggressive- your best bets are as follows:
Location: Since Snook are ambush style predators, you will find them usually on the back side of a natural bottleneck during a moving tide. They will be located on the side opposite of tide movement. In other locations that do not offer this exact scenario, they will usually be found in the root systems of mangroves. Again, waiting in the ambush position amongst the roots. With this style of ambush they are waiting for prey to follow the tide flow through or across the ambush point.
Approach: Approaching at an angle to remain out of view is key. For instance, you spot an ambush point with a good tide movement flowing through. You approach from a 45 degree angle on the blind side to the fish. You want to be able to cast in front of the flow and then work it in (dependant on bait, weight, and strength of flow). For a presentation working a heavier bait you could consider two approaches. One being to work the lure tightly across the opening to the ambush point. The second being to cast far enough into the ambush point to get beyond the spook point of the Snook and work the lure back out. Just remember, all fish find a bait swimming at their face unnatural – so keep yourself in the casting zone that best moves the bait through the zone, not into the fish itself. The same theory applies when working mangrove lines along the roots.
Presentation: If you noted during the approach segment I did talk about some presentations. This is because, as with all 3 parts of this Snook strategy, they work together and must all be in sync. Once the location or fishing area has been determined, the approach defined, it now becomes time to lay that bait in there just right. As with all flats fishing strategies, "bait slapping" the water can be detrimental and lead to a blowout of the area. Though sometimes unavoidable, where you put the splash is key. Beyond the target, just remember that – beyond the target. If you cast at a 45 to the ambush point in hopes to work across it, cast far beyond it. Casting into the ambush point is a tricky game, dependant on cast distance behind the entry. Sometimes you can launch straight through, but most times you will find more mangroves sitting right behind. This makes casting beyond impossible. In this case, get quiet, get close, and get light – lightweight bait that is. Gently toss it on the side furthest from the Snook, if he turns on the bait – in that moment I like to give it a second – then a single twitch. If he stays – twitch, twitch, BANG! Fish On! Working a mangrove line is sort of self explanatory, but still encompasses two methods. The angled cast working from a distance or the parallel cast working straight up the line. In either case, go for spots where the splash down occurs beyond pockets – work the pockets. When the tide is whipping around a mangrove island, blind casting around the corners is your best bet – this is a single sided ambush point and almost always where they will be during tide movement.