Homosassa Scalloping Charters
What better way to cool of in the heat of the Florida Summer than to get right on into the water with Homosassa Scalloping Charters? And, while you're at it, you can gather up dinner right off the shallow sea floor!
Let Homosassa Scalloping Charters offer you a fun time and great dinner for families, corporate outings, couples and more. The ride along the Homosassa River alone is worth the trip! Where else can you see manatees, dolphins, and monkey? Yes, monkeys! There's actually an island in the river that has resident monkeys on it.
The day will start out by running the river out to the pristine shallow grass flats off the coast of Homosassa FL. Once there, you'll gear up with snorkels, masks and fins and jump in. As you snorkel along the surface, you'll be able to see the scallops sitting amongst the sea grass just below you. Dive down, grab 'em and throw them in your catch bag. It's that simple! Once we get back into the river, we'll swim in the natural freshwater springs in the river cooling off and washing the salt out of our hair. By the time we get back to the boat ramp the scallops will have been cleaned and you'll be ready for dinner.
Scalloping in Homosassa is great from for everyone that enjoys the outdoors and great seafood. Make sure you book your charter today on our Homosassa Scalloping site.
Homosassa Scalloping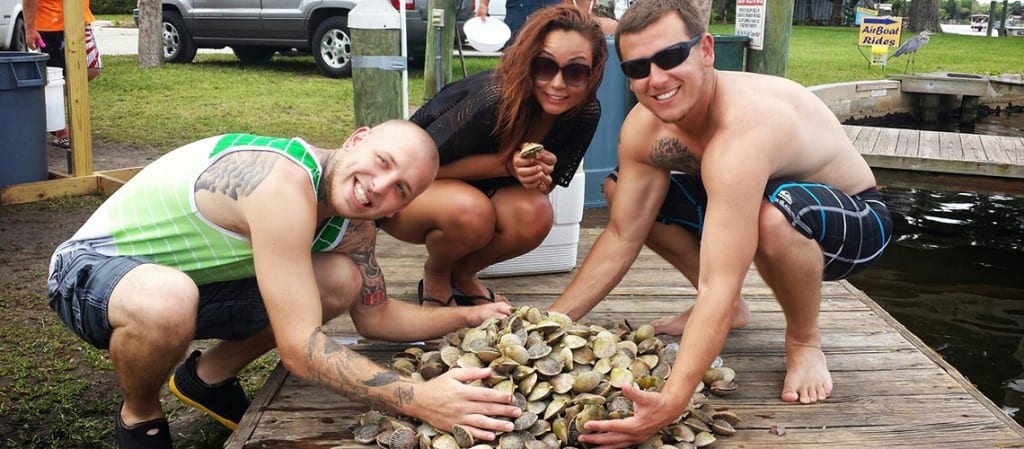 Scalloping in Homosassa is beyond compare. Spending the day out on the water taking dip after dip for these tasty saltwater treats is about the best way to spend some time on the water. Hunting the edges of sand pockets in the pristine sea grass beds of the Florida flats, you will find yourself submerged in not only a great scalloping adventure, but also in Florida's amazing underwater eco system. While the underwater adventuring and your time on the water will be enough to imprint a memory of a lifetime, Homosassa itself is home to some of the nicest people on earth.
Once you have taken in your limit of scallops, you will find yourself relaxing in one of the most popular waters in Florida. Homosassa River being fed by Homosassa Springs offers some of the best sightseeing in the area. Just 1 hour north of Tampa, Capt. Jim Lemke has definitely added this treat on the water to his guide fishing repertoire. Don't miss this experience, book your Homosassa Scallop Charters today by clicking the link above.