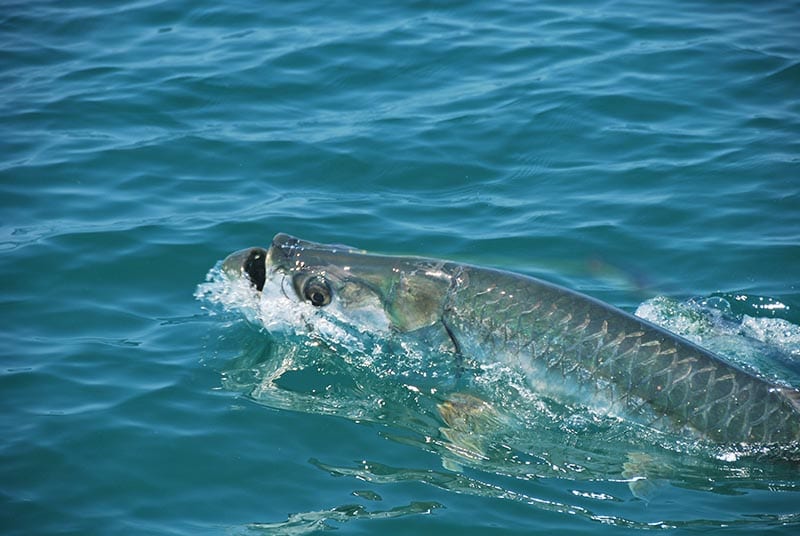 Florida's Tampa Bay is known for the big catch. Local anglers reel-in some of the ocean's most sought-after fish. Chief among the Gulf's boon is Tarpon. Moreover, Tampa offers casinos, breweries and lush parks. Anglers easily reap Tarpon from Fort De Soto's inshore waters, but the big catch awaits offshore, deep below the waves.
The region's Tarpon, Megalops Atlanticus in Latin, are easily recognized by their polished silver flanks, green or metallic-blue body, a trailed dorsal fin, and size. Tampa locals refer to the Tarpon as the Silver King due to its silver hue and girth. This fish is a hard fightin' catch. Anglers revere it for aerial displays. Many o' fish tales are of the Tarpon's antics on the line.
Tarpon spawn along the region's inshore waters. Juveniles Tarpon are easily retrieved with light tackle along Tampa's Bay. According to an angler at Sportsmanlike, "juvenile Tarpon have really made a showing recently and have been a blast to catch [with] light tackle and fly rods. Look for the smaller tarpon to be in small creeks, canals, and river mouths throughout the Bay Area." Fort De Soto, a county park and historical site, is the region's premier inshore Tarpon fishing excursion. The park consists of pristine 5 islands and covers 1,136 square acres.
Tampa's offshore Tarpon can exceed 280 pounds and 7 feet in length. A fish of this size can be challenging to reel-in, two-hundred-and-eighty pounds of fish exert a tremendous amount of resistance on a fishing rig, however, there's no reward like catching one of Florida's Tarpon, the sun and blue waters make for an unforgettable experience. Some local anglers even take to kayak fly fishing to catch Tampa's tarpon.
While fishing for Tampa's Tarpon, it's important to use the correct tackle. It's unlawful to use treble hooks. Moreover, heavy tackle is best for the angler and Tarpon. Heavy tackle reduces exhaustion and aids the fish in avoiding predators, after release.
It's said that Tampa offers the best kind of paradox – modernity and premier fishing. Many find peace while camping near Fort De Soto Park. In search of a different ambiance? Win big at the region's casinos and go home with a cash prize and prize catch!