Tampa Fishing is still strong during the winter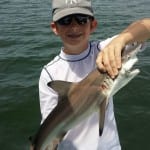 On the east side of the bay Tampa Fishing is in full swing with the Cobia, Pompano, and Sharks are still doing well at the power plant on the cooler days after a front. The best baits I have been using for the Cobia are a ½ oz jig head with a 8 to 10 inch plastic worm. With the Pompano and sharks I have been throwing a 1/4 to a 3/8 oz jig head tipped with a shrimp.
Sheepshead fishing during the winter months can be fantastic if you look in the right place. I like looking for them around most of the Docks, Rock piles, Rocky shorelines, and artificial reefs in the Tampabay area. With all that suture all around the bay are holding lots of good sized Sheepshead.
The leaders I use are 15-pound test fluorocarbon and were only 9 to 15 inches long, tied to a 1/0 hook and just enough weight to get it down. I like using short leaders and small hooks for Sheepshead with a longer leader it doesn't allow you to feel a bite as good, and larger hooks make it harder to hook a fish. The best baits to use are shrimp, sand fleas or small crabs like mud crabs or fiddler crabs. They need to be 12 inches and you are allowed to have 15 per person with no closed season.
The Sheepshead and Silver trout still are going strong around the bay area artificial reefs and deep water channels on a shrimp and 3/8 oz jig heads tipped with shrimp.
The flats around the bay area like the Kitchen, EG Simons, Picnic Island, Coffee Pot, and 4th street flats all are holding big numbers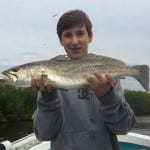 of Trout in the 2 to 4 feet of water over the grass. Those same flats are also holding some good numbers of redfish on the higher tides. They have been up on the flats against the mangroves and the baits I have been throwing at them are a jerk bait on a 1/16 oz to 1/8 oz jig head with a 15-pound leader because of the clear water.
Capt Jim Lemke charters out of Tampa, St. Petersburg and Clearwater and can be reached at (813) 917-4989 and at captjimlemke@gmail.com