Tampa bay Fishing Spring is Here

Spring Tampa bay fishing is around the corner as the start of the spring migration from the rivers and creeks to the flats and mangrove shore lines around the Tampa bay fishing area. March and April are typically our very best months for flats fishing and so far it's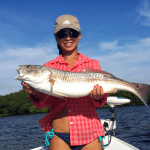 starting to live up to my client's expectations. The Snook, Redfish and Trout fishing has been starting to crank up in Tampa-Bay fishing area.
Tampa-bay fishing for Redfish in the bay has been on good but Weedon Island, 4th Street flat and the South Shore are doing great on the end of the end of the outgoing tide and the beginning of the incoming tide around the potholes in the Christmas pass area the potholes on the 4th street and oyster bars. There are a few ways to fish them if you use live bait then anchoring up current of the potholes and chum with live sardines or cut them up and toss them into the hole and when the smell go's down current and they will follow it up current to the hole your chumming. The other way is sight casting to them with fly or spinning gear from the front of a skiff of flats boat. The baits of choose is a weedless jerk bait or a gold spoon as for fly a crab pattern.
The Snook are starting to leave the deep water of the creeks and are making their way to the passes and creek mouths over the next few weeks. As their biological clock will start to send them into their spring mode. The south end of Weedon around to the power plant along with big island gap and the rocks at Picnic Island have been all holding some good Snook. The bait of choice is a live sardine or shrimp but as the water warms the top water fishing first thing in the morning is a great way to fish for Snook as the sun gets up try switching over to a jerk bait or a twitch bait.
The water is starting to warm for some good Trout fishing over the grass flats at the end of Weedon Island and Pinellas Point flat in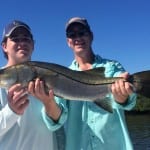 the 2 to 4 foot of water over grass. A shrimp under a cork or a weedless jerk bait and a bait fish pattern for you fly guys and gals. A lot of the big Gator Trout, I haven't been catching in the same places
The best bait over the next few months is live bait whether it is Sardines, Pinfish, or Shrimp for all of the big 3 but don't forget cut ladyfish is works very will also for big Redfish and Snook. I also step up my leader size from 20 to 30 pound fluorocarbon with a 2/0 circle hook.
Capt Jim Lemke charters out of Tampa, St. Petersburg and Clearwater and can be reached at (813) 917-4989 and at captjimlemke@gmail.com.